Terra Nostra ("Our Land")is a popular brazilian telenovelas set in 1888 Brazil which narrates the lives of some italian migrants.every single family in Italy has got at least one member who emigrated in Latin America or Usa in the past centuries; i've heard that by the end of 1800 in New York lived more italians than in rome and by 1910 New York was the 3rd italian town (just after Rome and Palermo) for the great number of its italian inhabitants. Incredible!!
my favourite song from the soundtrack, MALìA,which is also my favourite sing ever,sung in ancient italian language
needless to say, the costumes for both men and women are beautiful and elegant...
the main characters are :
Giuliana and Matteo,2 italian migrants. They're very poor,so their costumes are simple and not adorned
her hair are wonderful....
Hortencia,a spain migrant,who dresses like a flamenco dancer. her hairstyle is very cute
Angelica and Rosana. they're the daughters of a rich landowner,but since they live in the countryside for the most part of the time,they're costumes are very beautiful but simple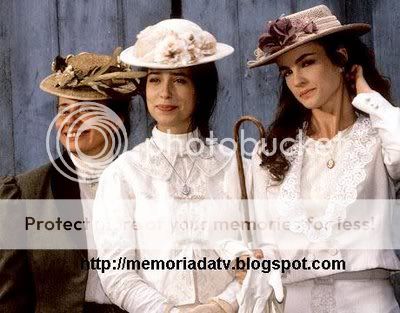 the best dressed character is the evil lady Madame Janette,the wife of a rich banker
(pictures are from regnonovelas.altrvista.org ironically there's my name written on some of them!!)
the rich bankers Francesco and Massimiliano.I wish to see man still dressed like them
Paola making pasta
some new ideas for my next carnival costumes!!